Fairy Garden Accessories
Fairy garden accessories can add a touch of whimsy to any miniature garden. Choose from figurines such as fairies, gnomes or animals, fairy houses, signs, tiny lampposts, bird baths and benches to make your garden planter a magical place.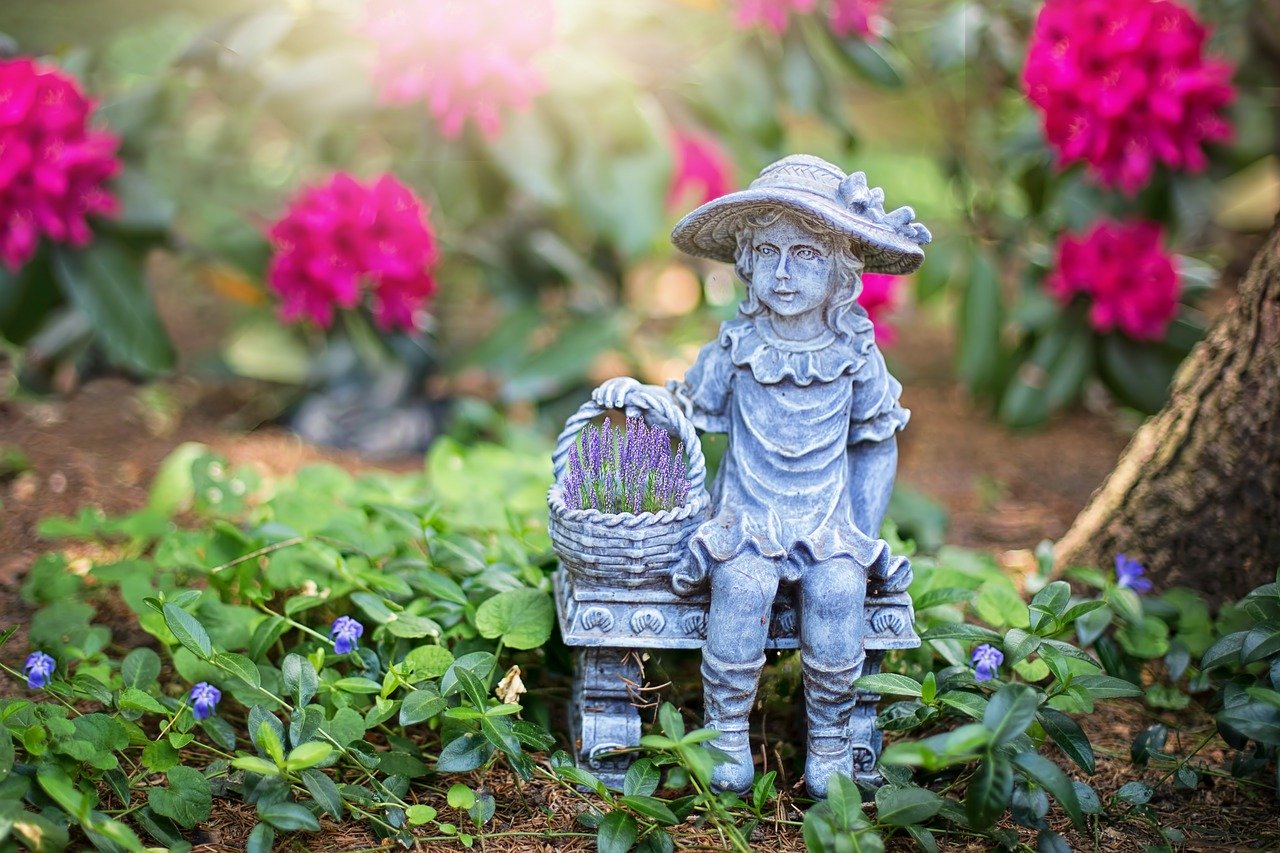 Creating a fairy garden can be a wonderful introduction to gardening for a child, and the fairy garden accessories will engage their interest and excitement in the process. They can even use miniature Lego figurines, dolls house items, game figurines, or other small toys as personal accessories in their very own fairy garden.
Select accessories that match the theme of your fairy garden, whether woodland, farm, beach and ocean, or seasonal. Then decide on the other fairy garden supplies and plants that you'll need, and you're ready to assemble your very own magical growing space!
These are some of the types of accessories available to complete your fairy garden (scroll down for more information on each one):
Figurines such as fairies, gnomes, animals and birds
Fairy houses and other buildings
Fairy doors
Signs and posts
Fairy furniture
Artificial flowers, trees and mushrooms
Insects like butterflies or ladybugs
Miniature boulders and rocks
Vehicles such as a fairy camper, tractor, etc
Tiny lighting solutions
Other fairy garden accessories
Fairy Garden Figurines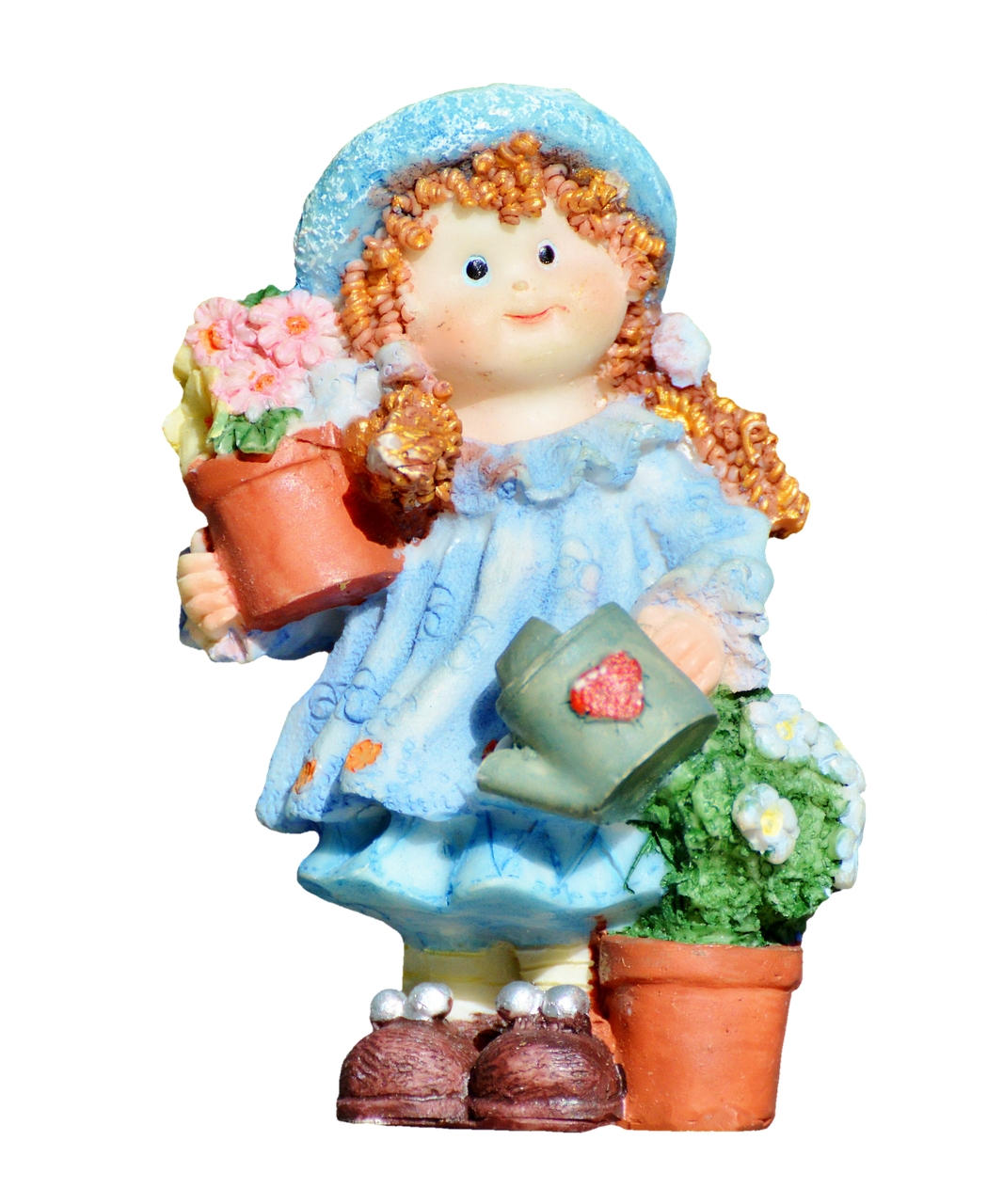 Figurines might include fairy garden statues of fairies, gnomes, animals, or birds.
Miniature fairies are certainly the traditional addition to a fairy garden, but you don't have to include them if you prefer not to. Your miniature garden can simply elicit the feeling of fairies visiting it through the other accessories and plants that you choose for the garden. Or design a modern fairy garden intended for other "beings", such as a Pokemon garden or a miniature Zen garden with tiny Buddha statues.
Fairy figurines
You can find miniature fairy figurines intended as fairy garden accessories in online marketplaces like Amazon or Etsy. Or look in your local thrift store or craft stores like Michaels or Hobby Lobby. 
You can even use children's toy fairies or tiny dolls. 
The cute fairy figurines below are available in my store here.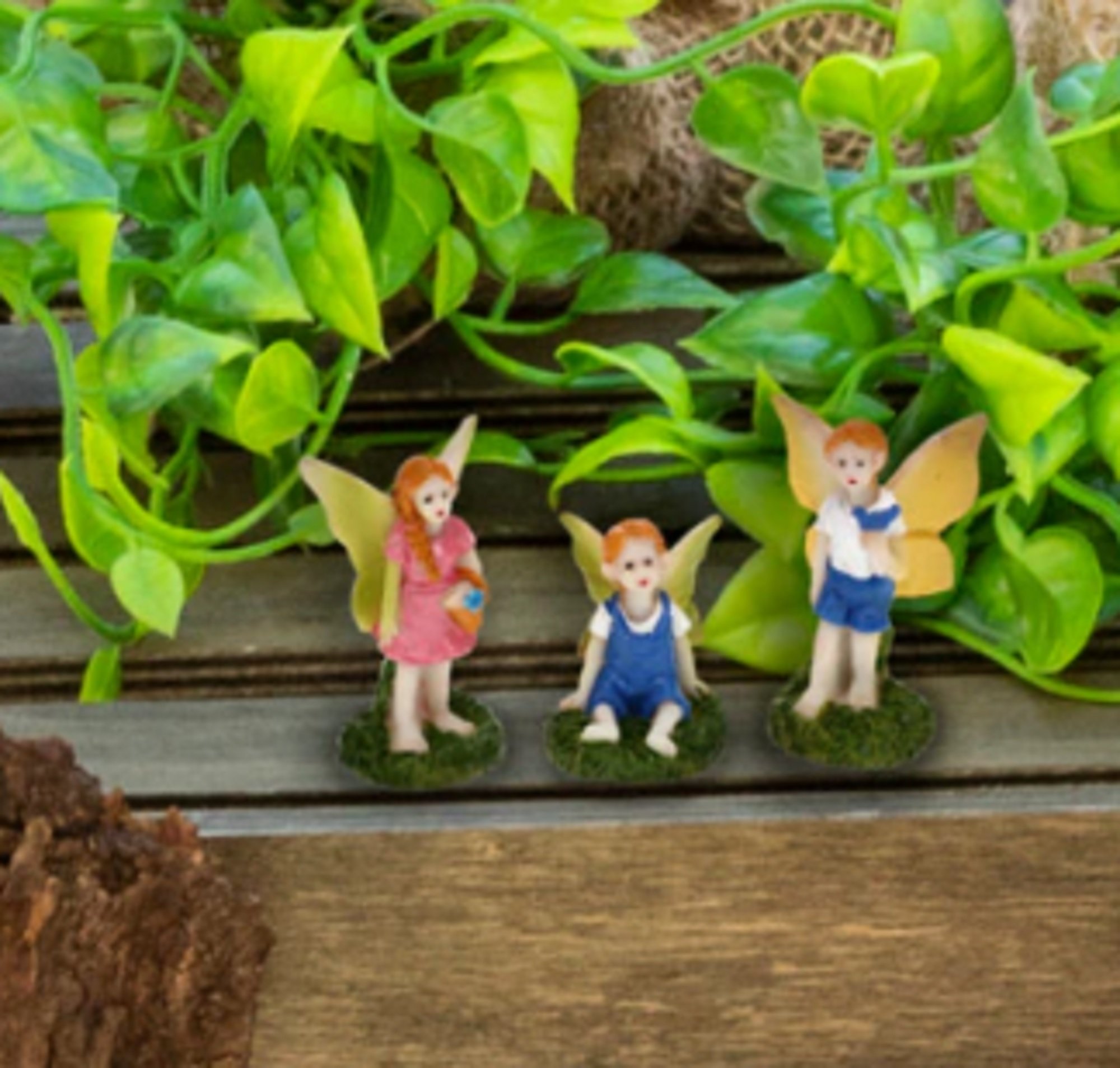 Gnomes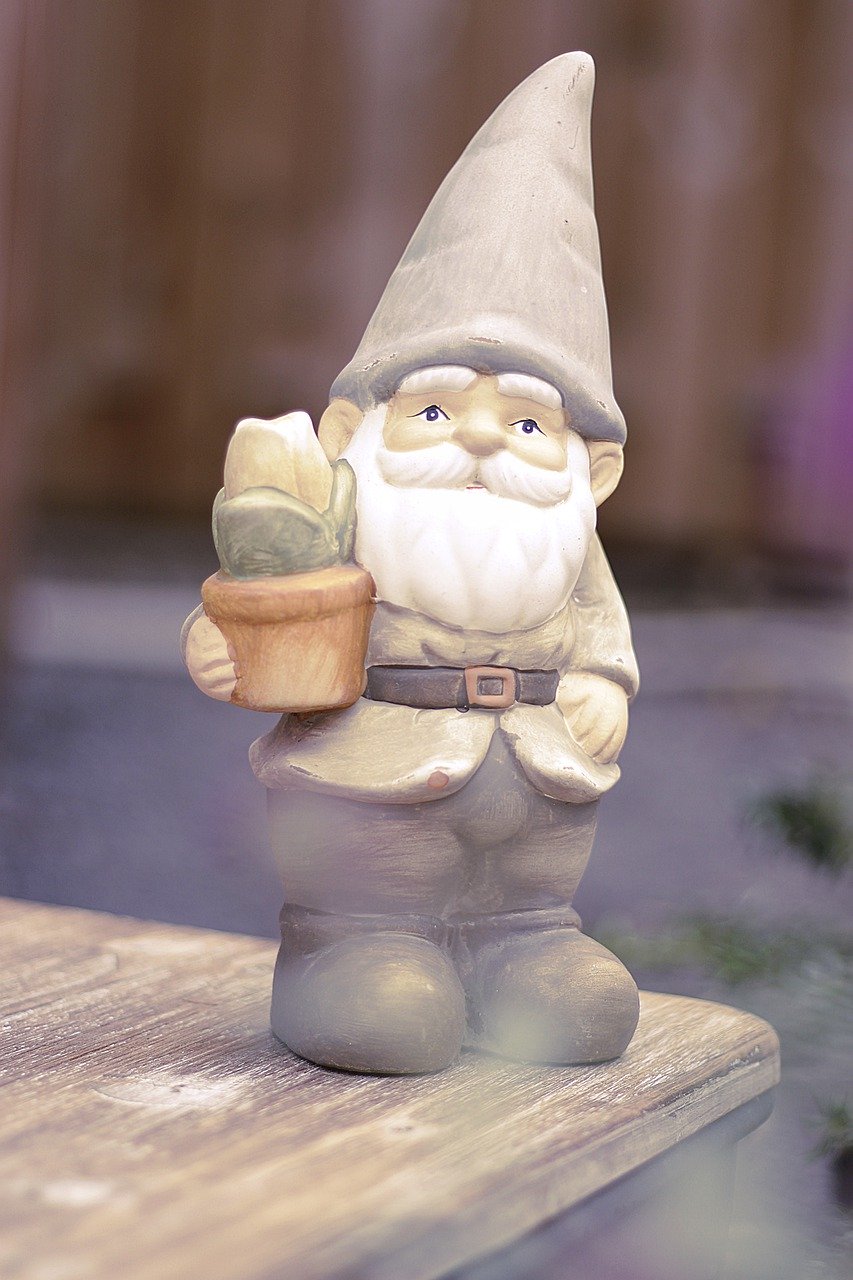 Gnomes are probably the most common statues in full-size gardens, so why not in a fairy garden also. You can find miniature gnomes in many of the same places that sell other fairy garden figurines.

Animals & birds
There are all kinds of miniature animal or bird figurines that you can add into your tiny garden. Try to stick with the theme that you've chosen for your garden: woodland animals in a forest garden (deer, squirrels, foxes, owls, etc), barnyard animals in a farm garden (sheep, cows, horses), pets and backyard birds in a home garden, or beach/ocean animals for a seaside or lakeside garden (crabs, seagulls, flamingos, otters or beavers, etc). You can even use dinosaurs or fantasy/game figurines.
There are many possible sources for tiny animal figurines. They are often included in fairy garden accessories or kits, but you can also use small toy animals intended for children, dolls house statues, etc. Or you can build your own out of clay or play-doh.
These adorable tiny vintage bunny figurines would make a lovely addition to an Easter fairy garden.
Fairy houses & other buildings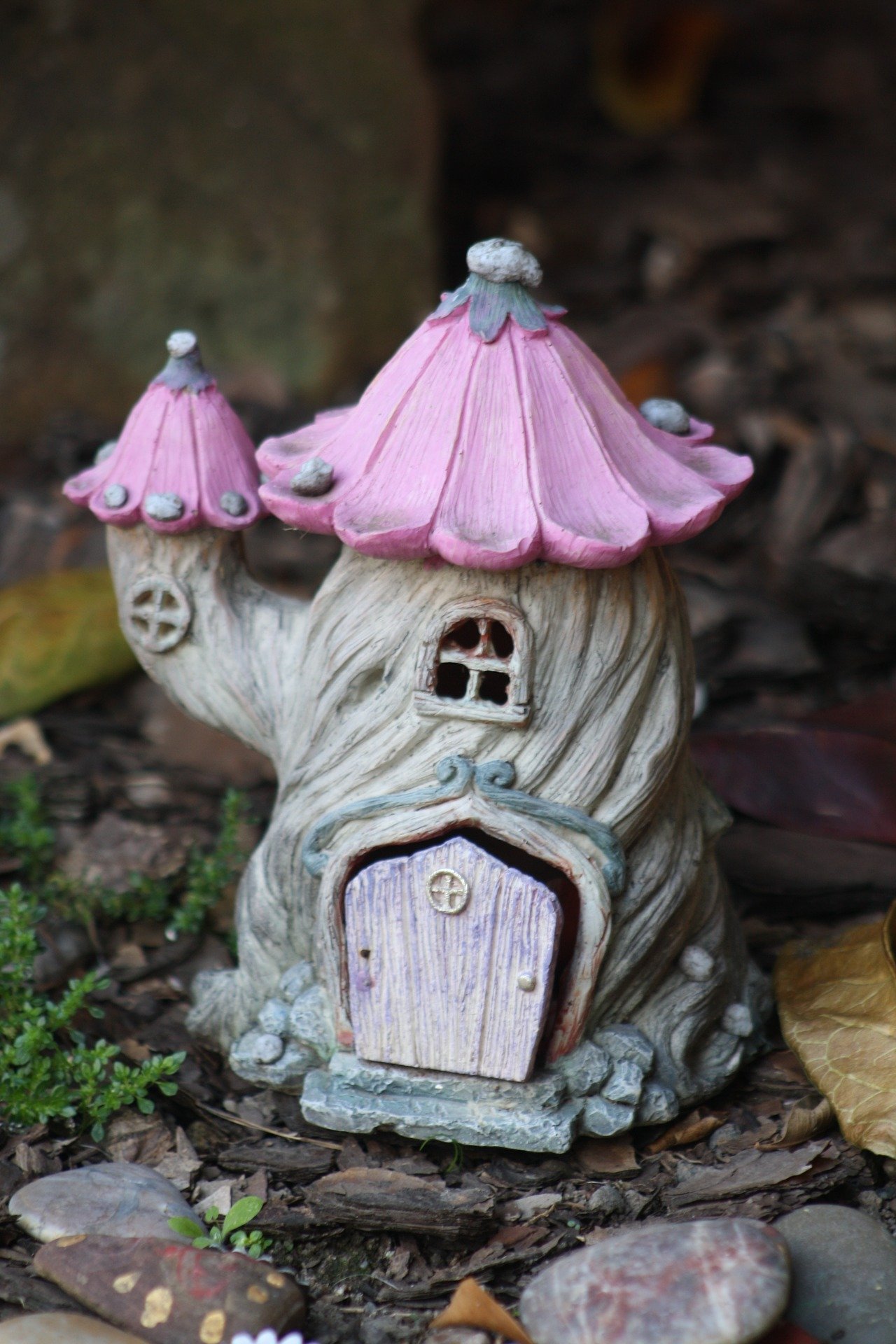 You can find all types of tiny fairy houses in the same places that sell fairy figurines.
You could also adapt other miniature buildings from craft or toy stores: barns, doll houses, stables, sheds, etc.
Fairy doors
If you are creating a woodland fairy garden, or using a tree stump or other vertical surface to build your garden, then the addition of a fairy door positioned against a tree stump or wall can be very magical.
Signs & posts
Tiny signs are commonly included in fairy garden kits: welcome signs, "fairy crossing" signs, lamp posts, fence posts, etc.
You can even make your own miniature signs with popsicle sticks and permanent markers.
Fairy furniture
A fairy garden can include all kinds of miniature furniture, such as benches, tables, chairs, patio garden sets, chaise lounges or swings. You can find these in places that sell fairy garden accessories, or look in toy stores that sell doll house furniture that you can repurpose in your fairy garden. You might be able to find toy furniture that you can use in thrift stores or garage sales as well.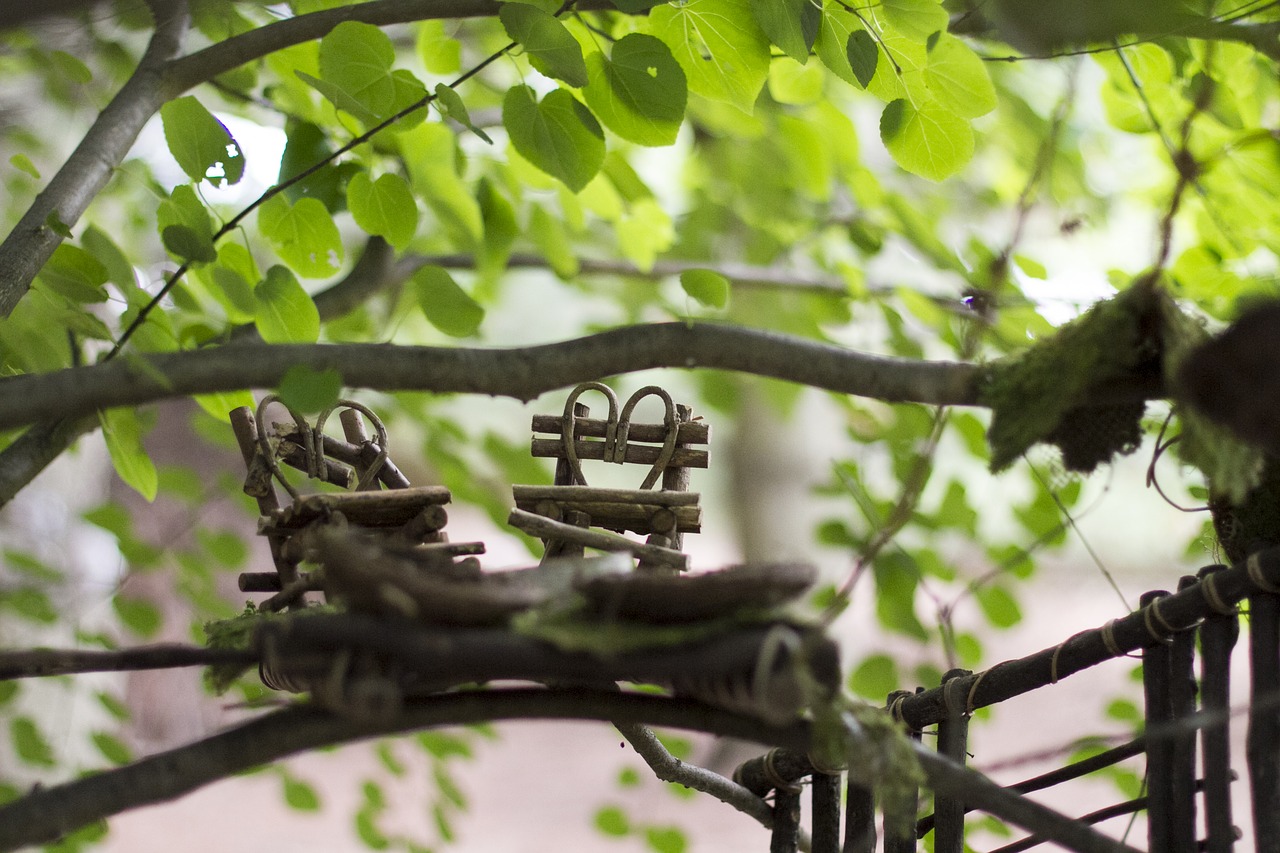 Artificial greenery & toadstools
Although you'll want to use real plants for most of your fairy garden, there are some useful artificial greenery and flower accessories you might want to add, including:
Toadstools and mushrooms, 
Small miniature artificial flowers or plant pots, 
Artificial trees or branches.
Insects
A good addition to a fairy garden could be miniature butterflies, ladybugs, or dragonflies.

Hardscape accessories
These hardscape items can also be good fairy garden accessories:
Boulders & rocks
Miniature stone walls
Tiny stepping stones
Pathways
Stairs
Vehicles
Depending on your fairy garden theme, you might want to add a vehicle to your garden: For example, there are fairy campers, miniature wagons or tractors, or utilize toy cars in your landscaping plan.
Lighting
Any garden design also includes lighting. For a fairy garden, you can use miniature strings of lights (these are often available around the holidays for interior decorating), tiny fairy lamp posts, fairy lanterns, little solar lamps, etc.
Other accessories
There are many other fairy garden accessories that you could add to your planter, just use your imagination and creativity.  Some examples include miniature bridges, gates, fences, birdbaths, birdhouses, bird feeders, wishing well, fairy pond, arbors, gazebos, trellises, and fountains. 
Use DIY accessories or repurpose items from your hobbies or interests to make your fairy garden special to you.
Fairy Garden Accessories DIY
If you don't have a budget for fairy garden accessories, then don't worry. There are so many options to DIY, or you can reuse or recycle items that would be thrown out anyway: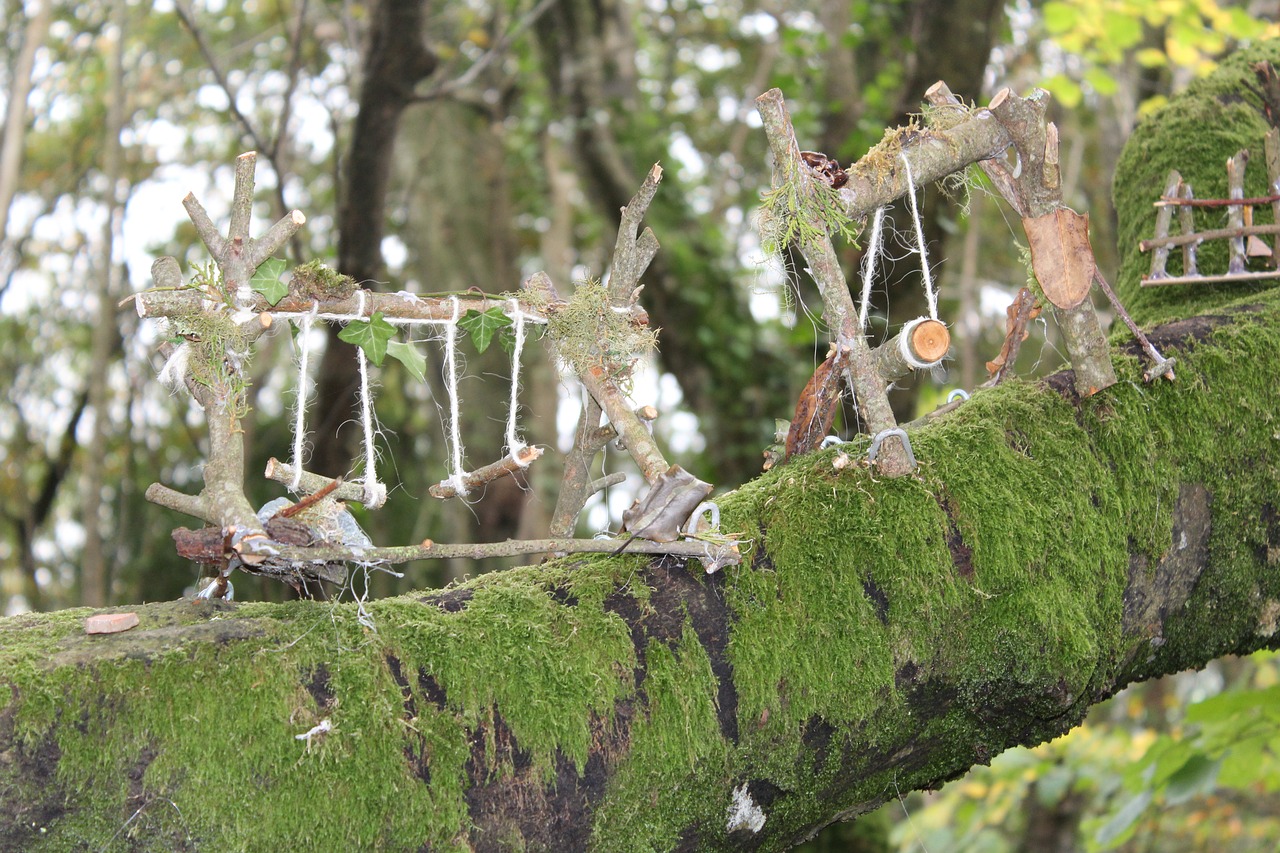 * Painted rocks
* Kcup planter: empty and clean a used coffee K-cup, decorate it, and plant it with some tiny flowers, or turn it into a miniature bird bath
* Build little furniture items out of twigs or popsicle sticks
* Use found rocks as miniature boulders, or build a stone wall with pebbles
* Make pathways out of small pebbles or sand or line them with twigs
* Turn an empty yogurt container or a box upside down and paint it to make a fairy house
* Create figurines out of clay or play-doh
* Make signs and fences out of popsicle sticks
* Reuse old toys that your kids no longer play with: Lego figurines, miniature cars, plastic animals and dinosaurs, doll house items
Questions About Fairy Garden Accessories
Where can I buy fairy garden supplies and accessories?
There are many places where you can purchase fairy garden accessories. Look online on Amazon or Etsy, or check out the gardening or toy sections at Walmart, Hobby Lobby, or Michaels. You can often find items at garage sales or thrift stores that you can repurpose in your fairy garden.
What are the best seasonal fairy garden accessories?
Turn your fairy garden into a winter wonderland for the holidays with fake snow, decorate with miniature wreaths on lamp posts, gates or fairy doors, and string some mini holiday lights.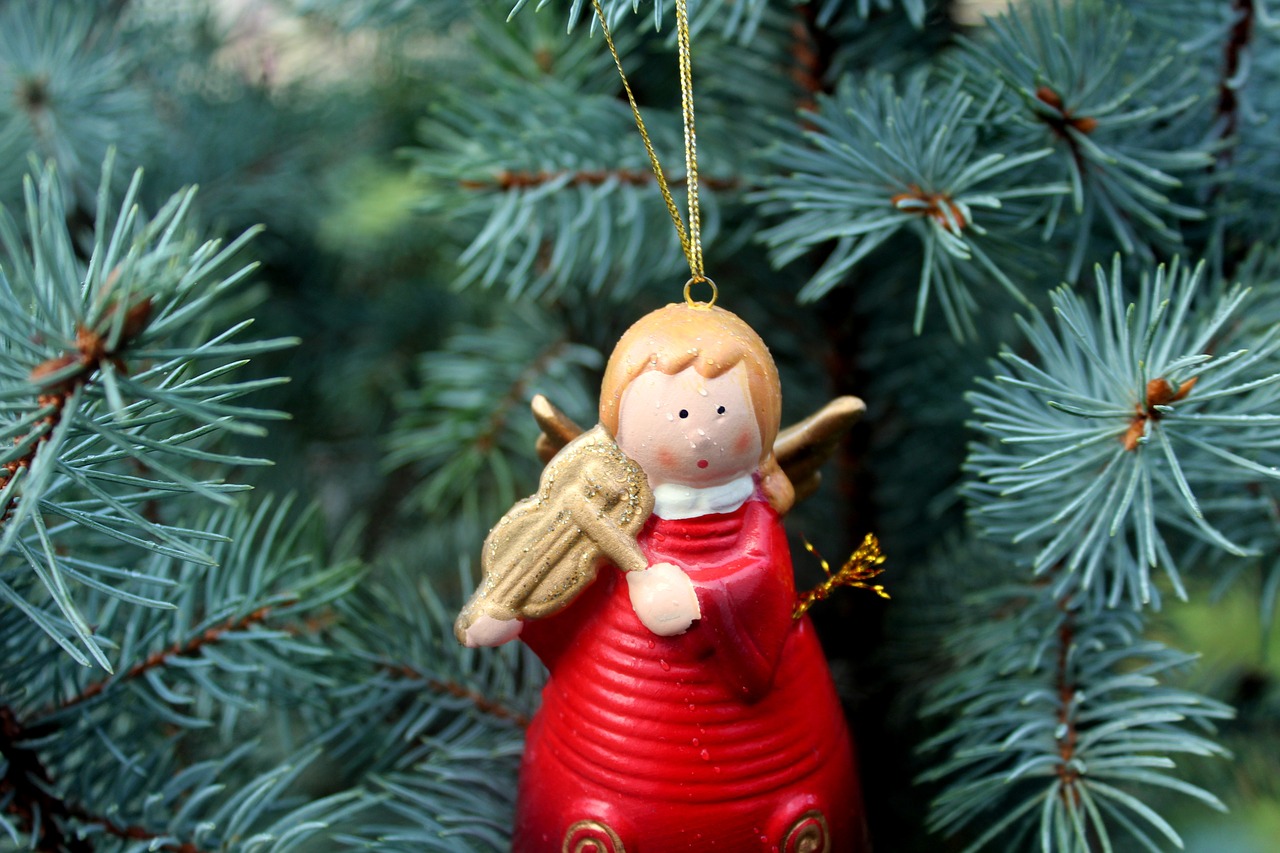 Also, Christmas tree ornaments can make great fairy garden accessories, like this angel ornament.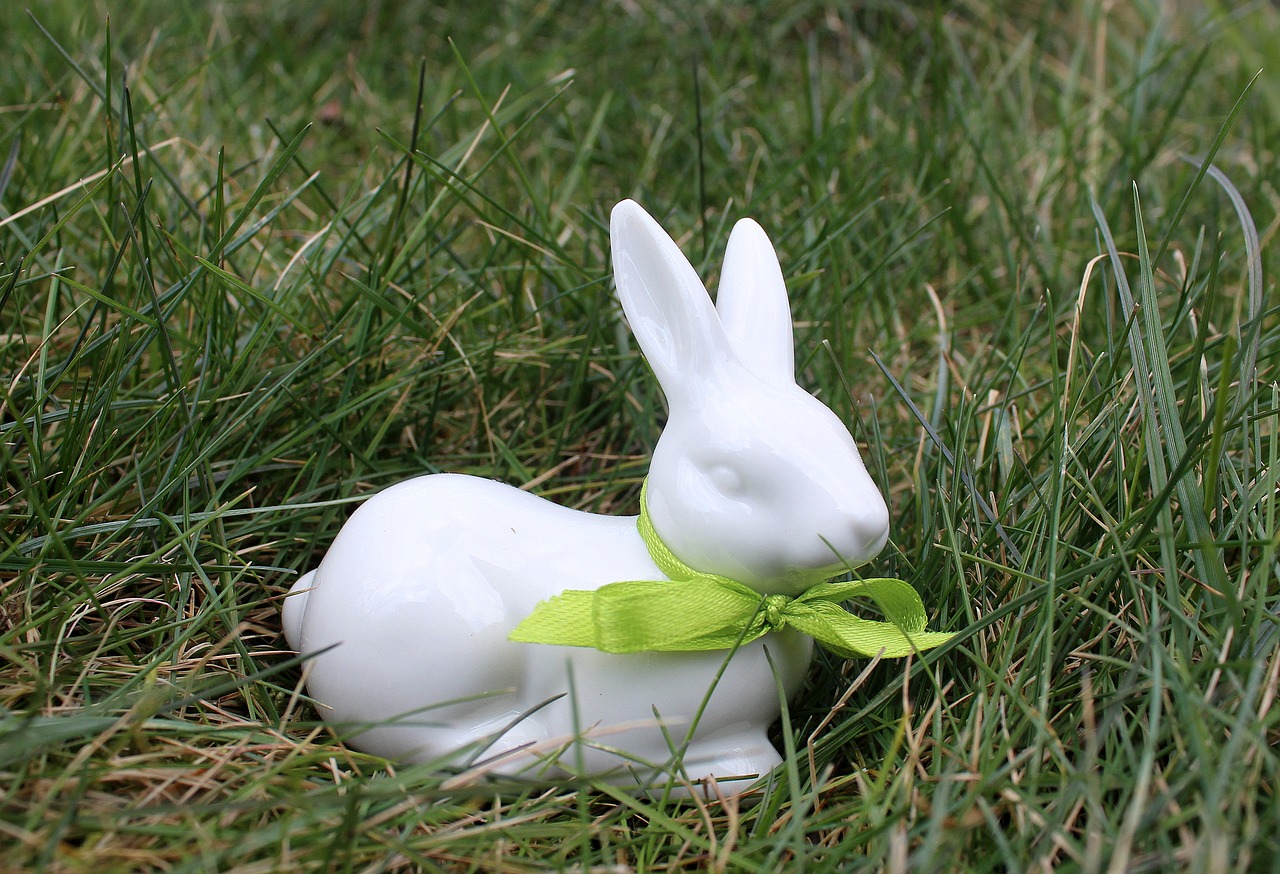 For Easter, add some miniature Easter eggs, and add bunny and chick figurines.
At Halloween, add tiny pumpkins, pine cones and mini Halloween figurines.
---